3kVa 5.12kWh Lithium-Ion Compact Power Station UPS - Uninterrupted Power Supply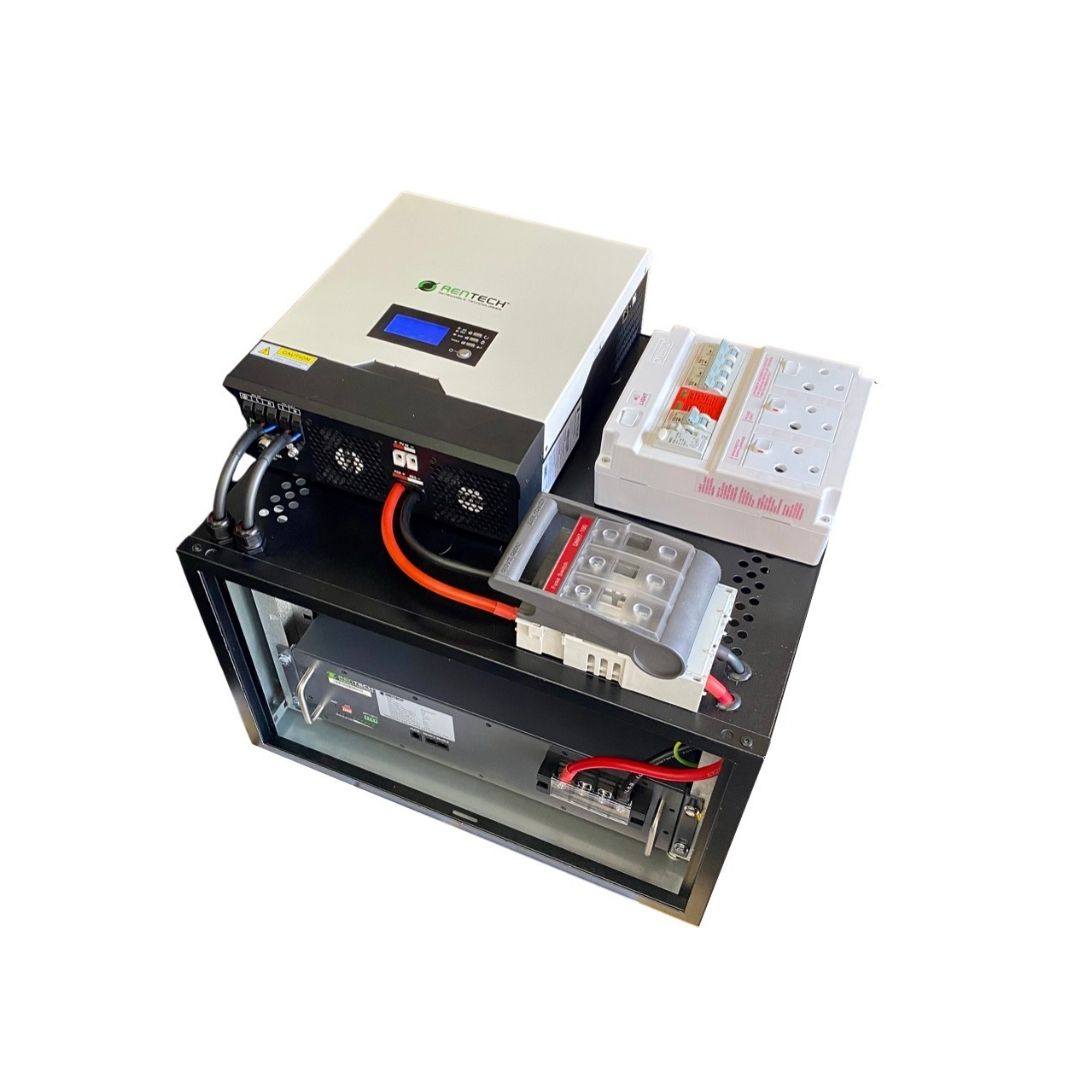 Available online only
Not available in store
This is a 3rd party product and is not available in store.
The Solar Ready Energy Independence 3kVA Compact Power System is the perfect power solution for Home and Office. Rentech Axpert VM3000 3kVA 2.4Kw Inverter Pure Sine Wave Solar Inverter with three outlet plugs Built in MPPT controller for solar capabilities Rentech 25.6V 200Ah Lithium-Ion Battery (5.12kWh) Integrated Battery Management System (BMS) Long battery lifespan (6000 cycles at 80% DoD) Easy to use Plug and Play unit No installation required and easy to move Overload and Short circuit protection Sleek integrated battery design Comprehensive LED / LCD display 5 (five) year Battery warranty 2 (two) year Inverter warranty Please note that this product has a built in fan that runs continuously. Do not place in a bedroom or in low noise areas. This product is solar ready and a solar powered option is available on request.
Product information
3kVa 5.12kWh Lithium-Ion Compact Power Station UPS - Uninterrupted Power Supply
f644b435
64.000000
0658325102376
64
55
50
49
The Energy Independence 3kVA 5.12kWh Lithium Compact Power Station is the perfect back-up power solution for your Home, Office or Small Business Now you can use appliances such as Microwaves, Fridges, Kettles and Toasters during a power outages. You can also use the 3kVA CPS to power Air-Conditioners and sensitive medical equipment and much more. Ideal for indoor Home and Office use. Powerful solar-ready Pure Sine Wave Inverter with built-in MPPT controller Smart 5.12 kWh Lithium-Ion battery technology with built-in Battery Management System. Long battery lifespan (6000 cycles at 80% DoD) Built-in overload and short circuit protection Superior build quality to competitors Sleek integrated battery design with three outlet plugs LCD / LED display for comprehensive information No installation is required and easy to move Easy to use Plug and Play unit Strong and durable castor wheels makes it easy to move Easily upgrade the system to 5kWh or 10 kWh simply by adding more batteries Re-charge the Battery by using an AC outlet, or 4x 275W Solar panels. Which makes it the perfect off-grid solution 5 (five) year Battery warranty 18 month Inverter warranty The Energy Independence 3kVA Compact Power System can run electrical equipment such as Hairdryers, Televisions, Computers, Air-conditioners, Fridges and Freezers, Microwaves, Medical Equipment, Power Tools and much more. Please note that the unit is a plug and play system, which means that you can plug it into an AC wall socket and then plug electronics or appliances into the AC ready board on top of the unit. This unit will not power your ceiling lights, or household appliances if you just plug it into an AC wall socket. To achieve this the unit will have to be wired into you DB Board by a certifified electrician. If you wire the unit into your DB Board you will only be able to power appliances up to 2500W.
Reviews
Questions