Direct to rust metal paint HAMMERITE smooth White 5L
Special Price
R1,499.00
R1,303.48
Regular Price
R1,749.00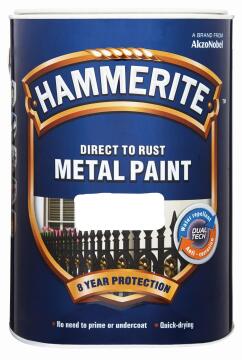 Specialist formulation that can be applied directly to rust. Strong adhesion to ferrous metal surfaces. 3-in-1 system that is easy to use on iron and steel. 8 year corrosion protection when applied as instructed for longer maintenance cycles. Weather resistant and water repellent to protect metal for longer. Ultra-tough and sag resistant. Improved application properties, especially on large surfaces. Fast-drying, allow multi-coat application after 4 hours. Gloss finish which resists dirt pick-up.
Product information
0
24.2
6.03
17.2
24.2
Brush and roller
1
White spirit or other solvents
Ironwork
5
Inside and outside
Multi-layer
Solvent-based
Satin
With smell
Protects and decorates iron
Iron
HAMMERED METALLIC BROWN
Hammerite Direct to Rust Metal Paint is a single pack air-drying coating which delivers a decorative, corrosion resistant finish.
Reviews
Questions